An Interview with
'Skum Love'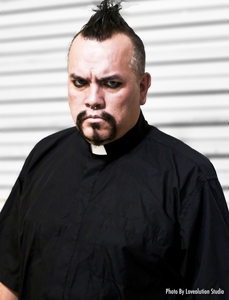 who recently released the album
'Sinister Minister'
that took place on 23rd & 24th June 2016.
Interviewed by Glenn Milligan.
Glenn: Hi Skum, how are you doing? How are things over there right now?
Skum: Not bad, it's good over here.
Glenn: Excellent.
Skum: It's pretty good I'm just constantly busy.
Glenn: I saw your preview for your 'RAHKAHOLIC' show at Skinny's last night. How was it and did Gerard DiSalvo (Skum Love Guitarist) make it down for the show?
Skum: Yeah it was pretty cool. We had a band called 'A Frame' play that has members of Tantric. Tantric are an old school 90's band and they are coming back around. They did their set and they did a couple of Tantric songs, then Murashita played which are from Japan. They sound like Kreator on speed. They are very old school.
Read More at the Source : http://www.metalliville.co.uk/bankup/INTERVIEWS%20Folder/Skum%20Love.htm